Ok, so it's officially ON. No ifs, no buts, no maybes. Someone has just slam-dunked Coventry City into the proverbial playoff mixer and we are absolutely having it large. Only the lower league behemoths of Doncaster, Fleetwood, and Burton stand between us and the fairytale to end all fairytales. I suppose it would provide a beautiful symmetry for sad old Blackpool to complete their metamorphosis from a big bad pirate's indentured slaves to Championship upstart, but I couldn't give fewer somethings about that. Our march to the top will steamroller every last grain of sentiment (except our own) in its relentless wake. Here we bloody come.
As you might have guessed, Saturday went pretty well.
Our recent return to form has coincided with a sartorial return to my trusted old 92/93 home shirt. I made an outrageous detour via South London to ensure I was encased by its musty and goal prompting scent on Saturday.
One lucky charm wasn't enough. My regular associate and I had also cajoled another homie on the train to Peterborough - his last two away trips were to Charlton and Southend. Our lovely little four-leafed clover.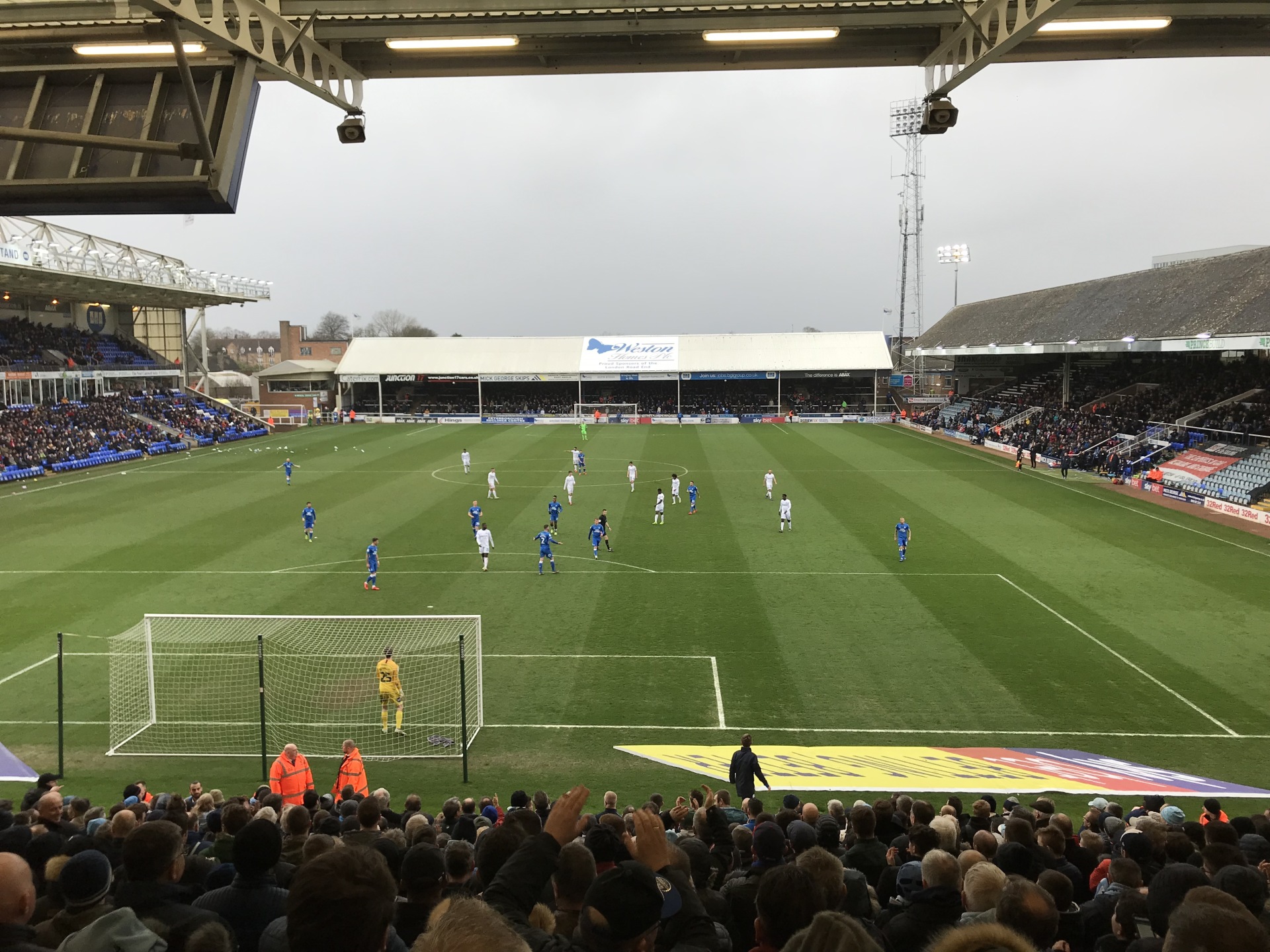 Peterborough has plenty going for it as an away day destination: proximity to London (increasing the chances of finding a boozer that sells soap ale), the thoroughly reasonable price of trains, the beautiful cathedral, their proclivity for letting us win (especially after taking the lead), and the capacious size of the away end (on this occasion at least), Unfortunately, they don't give the pints away like they do a bit further up north.
We took our place in what someone has dubbed the ABAX stadium, a name that would double nicely as a degenerative blood condition, with a faultless view over the action – an angelic hen's tooth in the morass of League One squinting.
Liam Kelly - who has hopefully now been introduced to some kind of traffic app by his younger peers after missing Tuesday's game while stuck in a jam - was restored to the team, and the familiar pair of Willis and Hyam took up their places in central defence - the latter still not entirely recovered from his 100 mph car crash.
As predicted, Lee Burge retained his status as the darling of the away end with booming praise ringing out from minute one - much to my relief. He claimed an early cross and then jack-in-the-boxed himself to tip over a rising long-range smash. Later on, he produced an incredible palm out from a Peterborough bicycle kick and managed to push a Marcus Maddison shot just out of the reach of an incoming striker. With the gale force wind rendering almost every player 40% more rubbish, I'm sure Burge was well aware that there was some serious scope for another super-sized cock up.
http://thelonelyseason.club/match-reports/too-posh-2-push