Former Coventry City striker John Aloisi looks to have played his last game for Australian side Sydney FC.
The striker, who was popular during his time at Highfield Road played in Spain before returning to his native Australia.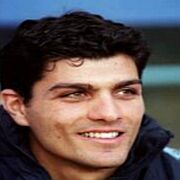 Aloisi has a $1.4m dollar contract with Sydney FC but can leave at anytime and with him now being injured he is unlikely to feature again for them in the rest of the A League season.
"Johnny hasn't been on the track for two weeks and to be honest you'll be lucky to see him again this season," Sydney boss John Kosmina said to Fox Sports.
"He has at least a week of hard work and I don't think he is up to it yet.
"If Johnny chooses to leave then that is his decision. "It is the same with any other player. We have already lost three or four players this season because they have chosen to leave.
"If I want Johnny to stay or not is irrelevant, it is his choice," he said. "We will see how Johnny goes and what he wants to do.
"I haven't spoken to him. It is not the type of thing you talk about at this stage of the season I am just concentrating on Wellington this Sunday."