Former Coventry City forward Craig Bellamy has signed for Manchester City after completing a medical.
Earlier in the day, If the Welsh international had sorted out the finer points of the transfer with Man City's Operating Director Paul Aldridge.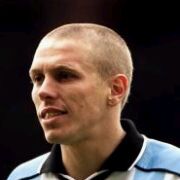 Bellamy, who is much despised in Coventry and Newcastle, whom City sold him to, has also played for Norwich, Blackburn, Celtic and Liverpool and told West Ham bosses that he wanted to leave on Friday.
He then walked out of training before going on strike and was omitted from the Hammers team which beat Fulham yesterday.