In an interview, Craig Bellamy claims that in his career he has not finished outside the top six.
Talking about his £14m move to Manchester City from West Ham United, Bellamy said "I still think we can finish in the top six this year. "It is still an aim for us but if not it is what we should be going for next season.
I have never been outside the top six in my whole career
and I want that to carry on."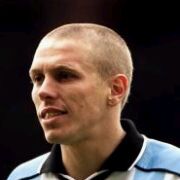 Strange as we thought he was in the City side that was relegated under Gordon Strachan in 2001.
Full interview
http://www.football365.com/story/0,17033,8652_4855574,00.html
Meanwhile, former City manager Terry Butcher is expected to be announced as the new manager of Inverness Caledonian Thistle.